The N2N Blog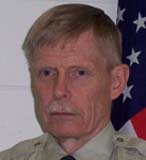 Veda's Breakfast
Dwight Johnson, Vice Chairman and Treasurer
02/04/2018
I manage the website for N2N. This morning it was with great sadness that for the first time since our website went live I have had to post that Veda's Breakfast is closed. It was a meloncholy Sunday for those of us volunteering for the last breakfast served at the Methodist Church. Pastor Sandy Kimbrow was responsible for convincing her church board that hosting the breakfast would be a good thing to do. But times change, boards change and circumstances change. All have contributed to our need to move on.
We all feel that the breakfast was serving a legitimate need. For the last few months attendance at the breakfast was approaching 40, with more children attending. So we will vigorously seek a new location. We cannot even consider the N2N building until the kitchen is remodeled so it could pass a health inspection. The earliest that could happen would be next summer.
So for now we will look to other churches to see if any have the required facility and would be willing to host the operation. We have a couple of possibilities, and there may be other non-church facilities that have not occurred to us. But we are committed to keeping the breakfast going and are hopeful this will only be a brief hiatus.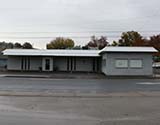 N2N Building Progress Report
11/19/2017
Continued Progress!
The electric work is complete and the shower and ventilation system is operational. Chris has been hard at work assembling the new institutional bunk beds. We will be able to accommodate 19 men and 6 women in the station.
We are finishing up with the security camera system upgrade. We anticipate that by Tuesday all that will remain for us to be able to open are a fire inspection and final blessing from the city. We are still looking for someone to volunteer to do the "mudding" and texturing on the sheetrock.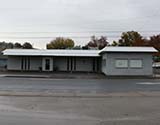 N2N Building Progress Report
11/11/2017
We are working hard to meet the 11/15 deadline. However, we might need a few days more to get the building in shape. We were not able to work Friday due to an unrelated emergency. The next two days will be critical for us. Our walls are up and sheetrocked. We now have separate mens and women's sleeping areas with a shower room. However, electrical work is not yet complete and a check valve needs to be installed in the shower. Right now we are replacing security camera cables. We are switching to a digital camera system. We have numerous damaged ceiling tiles to replace along with damaged insulation. Stay tuned!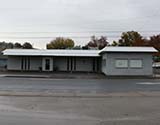 N2N Building Progress Report
10/28/2017
Continued Progress!
Framing is complete inside the N2N building. The women's and men's sleeping areas are now separated with entrance to both areas from the main hallway. We must get a framing inspection from the city before we can begin sheetrocking.
Once we get the go ahead from the city and finish the walls we must replace many damaged ceiling tiles and install a new video camera system. We are working hard to be able to open by November 15 if temperatures warrant but it is possible there will be a small delay. Keep monitoring the blog for details of the remodel.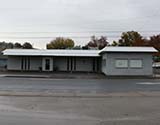 N2N Building Progress Report
10/20/2017
The heating system is on and working! We had our area tested for mold and found that we had dry rot spores inside the building as a result of the long term roof leaks. Mold mitigation has been completed as well and we have a certificate from a testing laboratory showing that no abnormal spore levels remain in the station. We are currently remodelling the inside of the building to wall off the men's sleeping area and separate the women's sleeping area with an entry from the main hallway. We will post pictures soon.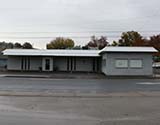 N2N Building Progress Report
09/06/2017
Great Progress!
The roof project is complete. We have a working roof and have removed all the buckets in the sleeping area! We are extremely grateful to the Pendleton Foundation Trust for their support of this project. Thank you! Thank You! Thank You!
Pendleton Electric has completed work on replacing the heating and cooling system. We now have a heat pump system with controllable venting at strategic areas in the station. The Wildhorse Foundation helped us with this project and we are extremely grateful for the foundation's continued support!
There is still a great deal of work remaing to be done inside the building before it can be used. We are moving walls and doors, doing electrical work, replacing the camera system and ceiling tyles. We also have new bunk beds to move in to the sleeping areas. Currrently the interior is not usable. For this reason we will not be able to open the Day Center until the fall season.
Keep checking our blog for progress reports. When work is complete we will post a new picture tour. We will schedule an open house for the public when work is complete.


Warming Station Progress Report
06/01/2017
In December of 2016 we received a wonderful gift from St. Anthony Hospital; a building of our own, located at 215 SE Court Ave. It had some physical issues but with the hard work of many dedicated volunteers we were able to stay open through the worst winter we have experienced in a long time. One of the major areas of concern was the roof. It was very old and beyond repair. But with tarps and buckets we survived. At the end of our season we applied for a substantial grant from Pendleton Foundation Trust (PFT) so we could replace the roof this summer. The fine folks at PFT investigated our request and found it to be a worthy investment toward the welfare of our community and granted us the full $25,575 we requested! As I write this, the old roof is being taken off and a new one installed. Thank you, Pendleton Foundation Trust!
We also requested a grant from Wildhorse Foundation to replace our aging roof top HVACs with more efficient and reliable heat pumps. They have awarded us a grant of $10,000 and our new heating/air conditioning will be installed later this year after we have completed some internal remodeling. Thank you, Wildhorse Foundation!
Other groups and organizations in our community have helped us this year. CAPECO purchased new bunk beds for us so we can more effectively use our space and it will make the sleeping areas safer and easier to keep tidy. Thank you, CAPECO!
The Pendleton High School CommuniCare Club provided us with a grant of $650 so we may purchase bedding for the new bunk beds. Thank you, CommuniCare Club!
We have received several hundred dollars from Dancing With Your Pendleton Stars (thank you, Kristin Swaggart) and several hundred dollars from a Walmart grant. Thank you, Walmart. Plus, many other people contributed money, food and other goods throughout our season. Thank you all!
We have installed a shower, a third toilet and as mentioned, have plans to do some remodeling to make our facility safer and easier to use. We are so grateful to our community for supporting us and partnering with us to provide a warm and safe place for the homeless to sleep during the cold winter months.
Our board meets every month and we have people who, even in the off season, put in several hours a week in order for us to be able to operate effectively during the winter. If you are interested in volunteering with us, drop us an email or contact us through our Facebook page. Our major ramp-up for the season will be after Round-Up however, we can provide training and tours almost anytime.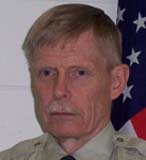 Our Continued Support
Dwight Johnson, Vice Chairman and Treasurer
06/02/2017
It is difficult to express the gratitude we at Neighbor 2 Neighbor feel toward the community of Pendleton for the support we have received this year. Recently the Pendleton Foundation Trust approved our grant request to fix the roof. This was a huge deal and we are much relieved. The roof leaks were getting worse and worse and we could not go into another rainy season without it being fixed. Thank you Pendleton Foundation!!
We are waiting to hear from the Wildhorse Foundation to see if they can help with the heating system replacement. We had to remove the old unit from the roof so we are committed.
As we approach the summer we are hopeful that we can complete work prior to the onset of hot weather in case the Day Center is needed.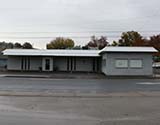 Warming Station Progress Report
06/01/2017
Earlier in the spring we began work on the shower room. An ADA approved stall has been installed and a token operated valve system incorporated into the plumbing. One token will provide a enough time to complete a shower. This is similar to systems used in many campgrounds.
We now need to contract with an electrician to complete the work. Once the shower is operational there is a possibility that we could offer limited showers to homeless folks later in the summer. This would depend on other building work completion as well as volunteer availability.
The Pendleton Foundation Trust has given us a grant to fix the roof. Thank you Pendleton Foundation Trust. Click here for more information on this project.
We have had the building checked for mold. Unfortunately, there are signs of dry rot mold in the rafters. We will know more when the roofers begin their work. We hope that no significant damage to the structure has occurred.
Stay tuned for more updates.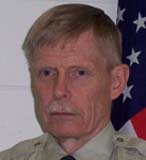 Our Support
Dwight Johnson, Vice Chairman and Treasurer
03/01/2017
We are in the seventh inning stretch for the warming station season and our volunteers are still committed to keeping the station open but are beginning to become worn out. Our volunteers this year have been so inspirational. We have several volunteers who have over 250 hours of service.
We have continued to receive a lot of financial support from the community. Many in our community have helped in a variety of ways. Restaurants have provided food; individuals have made financial donations and we have received a lot of donated clothing. What great support! The only thing we contiue to need is volunteers. Even though we are approaching the end of the season we can still use more volunteers, it is not too late to give it a try. I know you will not be dissapointed if you come down and check us out. There are a lot of people without homes in our community that need the help.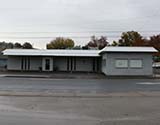 Warming Station Progress Report
03/01/2017
Work on the building came to a halt this winter as we began full operations. The roof leak has become worse and we have had to place numerous containers on the floor to catch water drips. We are not able to use the entire sleeping area because of this.
We still have not heard back from our plumber about placing showers in the building, but we are still determined to do this. We may have to locate an out of town contractor.
Our engineer has been working on plans to remove the heating units from the roof and use a heat pump system. We will attempt to secure two grants this spring. One for the roof and one for the heating system. The roof is our highest priority as interior damage will likely occur if the situation continues.
Stay tuned for more updates.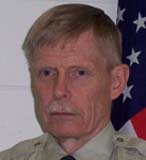 Our Support
Dwight Johnson, Vice Chairman and Treasurer
12/14/2016
I have been very impressed with the amount of support the Warming Station has received this year so far. We have had numerous individuals stop by while we were working on the building to ask what they could provide.
I was working in the building when a lady came in and asked about needs. I told her about our program and the kinds of things we could use. About an hour later she was back again knocking on our front door. When I let her in she brought with her over $300 of items she had bought for the station. I would tell you her name but I am not sure she wanted to be recognized. But what amazing generosity!
I was working again when another person brought in some very nice coats and vests. Chef Rob Hoffman from Sundown Bar and Grill brought a wonderful turkey dish the other night. Big John's has said they will provide weekly pizza. And the offers continue. I am extremely moved by all this support!
The only other thing we need is volunteers. We really need folks who do not mind staying up all night. We must have two volunteers on duty in the evening for fire watch and one person needs to be awake. The hardest part of this duty is the being awake part. But if you take turns at napping it is not that big a deal. And if you are a night owl this shift is made for you! We usually run this shift from 10 PM until 6 AM, but we are flexible.
Come down and check us out. Visitors are always welcome!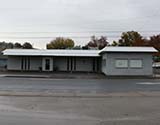 Warming Station Progress Report
12/14/2016
We have slowly been making minor repairs to the building and readjusting doorknobs. We have placed a larger television in the day area and have gotten our internet connection in place thanks to Brian at Wtechlink.
We had Round-Up City plumbing come and look at what it will take to get a shower or two in the building. This is really important right now because the previous shower opportunity for homeless folks is no longer available. In the interim the Assembly of God church is making their showers available periodically. Thanks to the Assembly of God as well as Bob and Cindy who are coordinating this project!
We have begun getting our cameras installed, which is turning out to be more work than expected. However, we continue to make progtress. The camera system lets volunteers monitor the inside and outside of the building.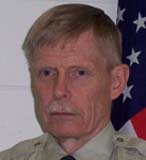 First Night
Dwight Johnson, Vice Chairman and Treasurer
12/07/2016
We have been open one night in our new building. And a cold evening it was! We had six guests this evening. One of our guests was stranded because of the Interstate closure and did not have any money for a motel. He was not equipped to stay outside and would have had a very hard time of it if it were not for the warming station.
My wife and I did the over night shift and as I contemplated the evening I remembered many cold nights spent out in the wilderness areas of Montana during winter camps. I always had a good sleeping bag and the skill and ability to make a campfire, which got me through the evening. Homeless folks trying to make it outside do not have the luxury of such equipment and opportunities.
This morning we gave out gloves and hand warmers to everyone and I assured them we would be open in the evening. The truth of it is that we are barely able to open with the volunteers we have. I find myself coming down tonight for a back to back evening shift. I hope that more in our community can take the plunge and sign up as volunteers. I believe the service we provide is crucial and may become even more important as government safety nets are diminished.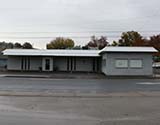 Warming Station Progress Report
12/06/2016
The building is ours!
Executive Director Chris Clemons signed the papers yesterday that officially transferred ownership of the former Pioneer Relief Nursery building to Neighbor 2 Neighbor. This building is now the new home of the Pendleton Warming Station and Day Center.
We have spent the last few days moving out of the old building. We have gotten most of our things over to the new building with just a few small things left to do. The new building has a lot of organization needed and some remodelling, but we will be ready to open this evening as cold weather moves in. We made it just in the nick of time.
We cannnot thank St. Anthony Hospital enough for their generous donation, which will give those that are without a home a warm and safe place to get out of the weather.
Keep checking our blog for progress reports. We will schedule an open house for the public in the future.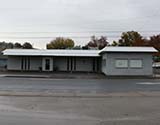 Warming Station Progress Report
12/03/2016
Pioneer Relief Nursery has moved out of the building and we have begun moving things from the old Warming Station building to our new location. Its amazing how much accumulates over a period of four years! Chris and Carolyn went down and spent almost an entire day boxing up items for the move. We started on Thursday and have moved over half the contents as of Saturday evening. We have done some basic organization at the new location and have got all the beds and bedding over there. It will still be a work in progress but with the cold weather coming we want to be able to open.
Monday is the day we hope to officially transfer the title. However, regardless what happens then we are pretty sure we will be opening our new Pendleton Warming Station/Day Center at its new location. Keep watching the website and our facebook page for updates.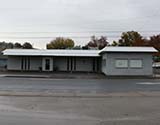 Warming Station Progress Report
11/17/2016
December 5 is the Date!
We are getting closer to owning the new Warming Station and Day Center! The Pioneer Nursery will begin moving on 11/28 and should be completely out by the end of the week. St. Anthony is working on the title search process and the documents that need to be signed off. Hospital staff will hand deliver the quitclaim deed to the title office on Monday, December 5th and N2N personnel will hopefully receive ownership of the building the same day and begin moving in Immediately after that.

Keep checking the website for updates. We are very greatful to St. Anthony's Hospital for their generous donation to N2N and the Pendleton Community. St. Anthony's recognizes the need to provide support for the most vulnerable in our society.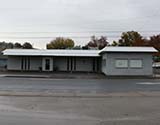 Warming Station Progress Report
11/14/2016
Pioneer Relief Nursery has told us that they have been given they will be moving to their new building on 11/28. We have not heard yet from the hospital when we would be ableto move in or when ownership of the building will change hands. We will update the blog when we find out more. We are hoping we will be able to open the Warming Station the first part of December.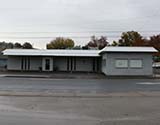 Warming Station Progress Report
10/30/2016
We are progressing in our steps to move into the new location for the Pendleton Warming Station at 715 SE Court Ave. This building currently houses Pioneer Relief Nursery and is owned by St. Anthony Hospital.

St. Anthony's plans to move the nursery up to the old Wee Care building off of Nye which it also owns. However, before the nursery can move remodelling of this facility must occur. Contractors are working this fall to but progress has been slow due to several unforeseen issues. The hospital hopes the necessary work will be completed by mid-November. Once the nursery is out, the hospital will officially give the old building to Neighbor 2 Neighbor for use as the Pendleton Warming Station and Day Center.

We at N2N have been wanting a facility of our own for quite some time. The old location and building layout is not ideal but thanks to community support and City of Pendleton providing the building it worked. However with this acquisition come new challenges. The new building needs immediate modifications/repairs before we can open. We expect this to be minimal (some priority roof patching, ) but until the long term remodelling can be done conditions may be less than ideal.
Major repairs include total replacement of the old roof which leaks and has structural repair needs and bathroom re-sizing to accomodate larger people. We have received estimates for doing this which exceed our ability to fund at this time. We are anticipating increased operating costs anyway due to increased utility bills, insurance costs and other needs. Please contact N2N if you have any ideas for grant opportunities, and any donations would be greatly appreciated. We can accept on line donations here.
With all these challenges we are extremely grateful to St. Anthony Hospital for this exciting opportunity to better serve the homeless in our community. Check back for updates as we will provide updates and progress reports as we move forward.
Thank you to all who have helped Neighbor 2 Neighbor in the past financially, vocal support for the mission, or by volunteering. Neighbor 2 Neighbor is a community effort and could not operate without this support.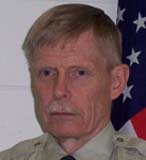 Updates
Dwight Johnson, Vice Chairman and Treasurer
07/24/2016
A couple of updates for the summer seem in order.

First, Wild Rose RV Park has changed hands and the new owners do not want to continue the shower voucher program. The previous owners had graciously allowed our homeless folks to use their facility showers for free as long as they obtained a voucher from N2N, Helping Hand or the Salvation Army. So for now there are no free showers available for those without alternatives.

Second, progress continues to be made in our transition to a new facility for the Pendleton Warming Station and Day Center. We are optimistic that we will be able to move in to the new building which currently houses the Pioneer Relief Nursery prior to November 1. At some point we hope to add showers to that building. We will provide updates to our web site as we know more. I hope everyone has a good summer.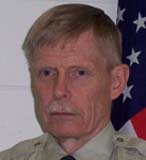 Fall Means Need
Dwight Johnson, Vice Chairman and Treasurer
10/15/2015
I really love the fall. I like hiking in the woods; I like the crisp mornings; I like coming home on those cold nights. But for those without a home fall means something else. It means facing the increasing challenge of finding a warm place to spend the night where it is safe and legal. For these folks fall adds more stress to an already stressful life.

For many of these people the Warming Station and Day Center provide the only viable alternative to walking around all night or shivering away in a window well, alley or some area along the river, risking arrest for criminal trespass. Volunteers make this alternative possible. We are currently making a drive for more volunteers. With enough volunteers operating the Warming Station and Day Center are not that burdensome. Not only can volunteers make a huge difference in the life of others, but volunteering for Neighbor 2 Neighbor can be very rewarding. Please try us out. Come down to one of our training sessions and see what we are about. There is no obligation in showing up.

I fear some folks assume that since we often hold training sessions at churches, our volunteers are all affiliated with a church. This is not the case. While many of our volunteers do come from religious backgrounds, many do not. We are a coalition of concerned citizens from all walks of life. All are welcome. We do not make religious affiliation a requirement for receiving or providing our services. We do not try to convert folks. We do make religious information available for those who ask for it just as we do information on mental health, food support and other services for those in need. So please consider volunteering for Neighbor 2 Neighbor. Call us or come on down to one of our sessions. I hope to see you there!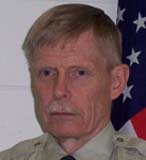 Changes
Dwight Johnson, Vice Chairman and Treasurer
07/20/2015
Lots of changes are on the horizon for Neighbor 2 Neighbor.

St. Anthonys Hospital president Harry Geller recently announced that the hospital would donate the current Pioneer Relief Nursery building to Neighbor 2 Neighbor as soon as they are able to re-locate the nursery to another building also owned by the hospital. However, the new nursery building needs a lot of work including the installation of a fire sprinkler system. This will take quite some time so we will petition the city council to let us use the current Warming Station facility again this winter. We are extremely grateful to St. Anthony's for supporting the mission of Neighbor 2 Neighbor. St. Anthony's has been a great asset for Pendleton.

We are also expecting changes with Veda's Breakfast and the Day Center. The First United Methodist Church has told us that they will close down their current church building within the year. Since both the Day Center and Veda's Breakfast are located in the basement of this building, both will need to find a new home or be shut down.

Our long range plan is to locate all our operations into the new building. However, we anticipate it will take substantial funding and remodeling efforts to ensure the building meets our needs. We are hopeful that we can remain in the Methodist Church until the new building is ready. If not we will have to find a new temporary location or shut the operations down until the new building is ready. Keep checking the Notice Board and our blog for updates.
Caring
From Chris Clemons, Executive Director
01/24/2015
Each winter I place a bird feeder outside my window. I get great enjoyment watching those little sparrows peck away at the suet as they dart in and out of that leafless bush. They could scrounge around for food elsewhere but I feel compelled to help them survive the winter. There is something inside of me that cares about them. They have a Creator therefore He must care about them.

One night at the Warming Station, very late, a young man knocked on the door. He got out of jail the night before and had not been able to get back to his home town. He was cold, tired, hungry and had no place to go. I gave him a meal, a bed and some advice for finding a ride home. There was something inside of me that cared about him. He has a Creator therefore God must care about him.

Countless studies have been done, newspaper articles written, and endless opinions offered as to the cause and fix of homelessness but one thing remains, when the temperature drops and we crawl into our warm beds there will always be some who do not have a place to call home. We care about them and that is why we exist.