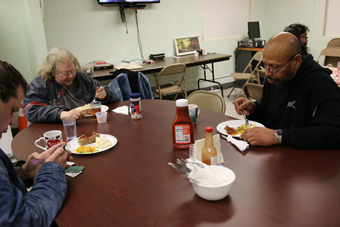 Hours of Operation
Sundays Time TBD
Location
Veda's Room
Pendleton Warming Station and Day Center
715 SE Court Ave.
Pendleton, OR 97801
Telephone
765-791-8332
The history of Veda's Breakfast featuring Veda with her granddaughter Breanna.
Click hereto see a larger version of this video.
Our Menu
One of These Entrees Prepared Each Sunday:
Coming Soon
Temporarily Closed.

Veda's Breakfast is coming back with a new name and time!
We are working hard to bring back Veda Spencer's Sunday meal. The breakfast will turn into a lunch with exact serving hours yet to be determined. The meal will be served out of the Warming Station/Day Center. The kitchen remodel needs to be completed and approval obtained from the health department. Stay tuned for further developments.
Description
Veda's Breakfast was served every Sunday morning and open to all who wished to eat free of charge. The breakfast was the only free meal available in Pendleton on Sundays. We intend to maintain this tradition with a noon meal at Veda's Cafe.
History
One Sunday in 2009 Veda and her granddaughter Breanna were walking on the Umatilla River levee when they observed several homeless individuals.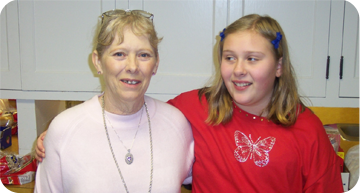 Veda and Granddaughter Breanna
Realizing that on Sundays there was no place these people could go to get a meal, Veda decided to do something on her own. She loaded up a barbecue grill into the back of her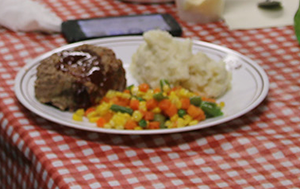 pickup, drove down to Stillman Park, and cooked up a simple but nutritious breakfast for all who came, no questions asked. Veda made a ritual of cooking this Sunday breakfast in the park for several weeks. Then one day she happened to visit the First United Methodist Church and received permission from its pastor to serve the breakfast in the church's fellowship hall.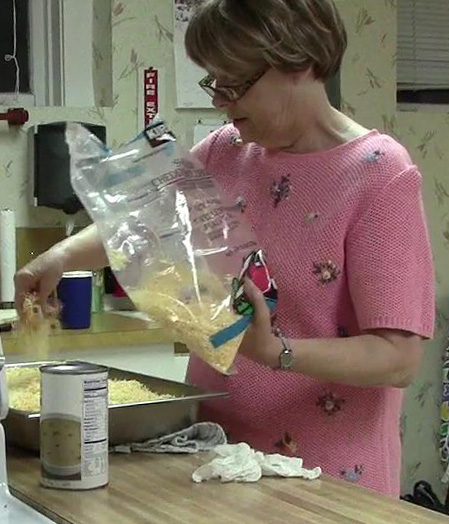 Veda continued to coordinate the breakfast assisted by other volunteers until health problems prevented her continued involvement. In 2013, Neighbor 2 Neighbor took over the breakfast as one of its three operations. The breakfast was served at the Methodist Church until 2018, when the church building was sold.
Veda Spencer succumbed to a long battle with health issues on December 31, 2019. Veda's passion for helping others in need was an example for us all. N2N is committed to continuing the tradition that Veda started by serving a Sunday meal. Veda's Breakfast shows how one caring person can make a difference in the lives of others.